From the Announcement of your Engagement
~ Announce your engagement to family and friends and in newspapers if you choose.
~ If both sets of parents have not yet met, be sure to organize it now
~ Determine your wedding budget and try to stick to it.
~ Review the budget with anyone who is helping with the costs and also your wedding planner.
~ Engage a wedding planner if you are using one.
~ Decide on the style of wedding you want.
~ Compile a preliminary guest list.
~ Consider who you want to have in your wedding party and contact them.
~ Select dates for the all your wedding related functions.
~ Decide on a location for the various functions
~ Select a caterer for each function.
~ Book a block of rooms for your out-of-town guests.
~ Make arrangements with the celebrants for your wedding.
~ Book the venue for the wedding ceremony.
~ Select your photographers, florists, musicians, calligraphers and make your choices.
~ Make reservations for transportation (e.g., limousine, carriage, etc).
~ Make plans for your honeymoon.
~ Commence the selection of wedding and function attire including all accessories.
~ Establish what attire the brides attendants will wear and organize it
~ Have the groom select his and his ushers clothing and set a schedule with them.
~ Compile directions to be included in Save-the-Date cards and/or in your invitations.
~ Drive the routes that will be taken on your wedding day.
~ Mail a "Save-the-Date" cards to your "A" list guests.


About 6 months before your wedding day
~ Confirm with the members of your wedding party.
~ Order invitations, announcements, programs and all printed materials.
~ Register at several stores, choosing a broad range of items and prices.
~ Create a register of gifts received and mail thank you notes promptly after receiving a gift.
~ Organize the ring bearer pillow and flower girl baskets.
~ Document a wedding day schedule of events.
~ Create sketches and schedules for all the wedding day activities.
~ Choose guests for toasts, speeches, blessing of bread and wine, etc.
~ Select a jeweler. Look at a selection of wedding bands. Place an order.
~ Make arrangements for child care at your ceremony and/or reception.
~ Select the type and style of cake(s) and place your order
~ Consult with your florist, select your floral needs and place the order


Around 3 months before,
~ Prepare your final guest list. Begin to address invitations or take them to your calligrapher.
~ If you have not already done so, discuss wedding attire with the mothers of the bride and groom.
~ Confirm with all the wedding professionals (e.g., DJ, photographer).
~ Choose gifts for your attendants, ushers, flower girl, ring bearer and parents.
~ Bride, select your wedding gift for the groom.
~ Groom, select your wedding gift for the bride.
~ Complete arrangements for the rehearsal dinner, and for any other functions.
~ Be sure that you know where you will be living after the wedding
~ Get change of address cards from the post office and get them ready to mail.
~ Decide on the favors and purchase them.
~ Decide who will ride with whom and where people need to be when.
~ Assist out-of-town guests with reservations.
~ Choose a hairdresser and do a trial run.
~ Decide who will be distributing the programs at the wedding.
~ Meet with the caterer to finalize the menu. Order a cake if the caterer doesn't supply it.
~ Mail the invitations to the people on the "A" list, if you have one. Allow 30 days for the RSVP


Two months prior,
~ Get blood tests (where required)
~ Set your appointment for hair and nails as close to the wedding time as possible.
~ Meet or speak with your caterer to re-confirm the menu.
~ Select the music for your ceremony and each facet within it.
~ Discuss your musical selections with the musicians
~ Select and purchase any religious items you may wish to have.
~ Make arrangements for any additional customization (e.g., imprinting).
~ Review your needs with the photographer and videographer.
~ Mail the invitations. If you have "A" and "B" lists, mail the "B" list now. Allow 30 days for the RSVP
~ Review personal documentation (wills, health care proxies, etc.) and make changes as needed
~ Purchase any wedding-related items that you have not already done so.
~ Put Guest Baskets(favors) together and assign someone the task of distributing them.
~ Arrange for someone to deposit your monetary gifts in the bank for you.
~ Get your honeymoon clothes together(hers and his).


One month out and as the day approaches,
~ Reconfirm everything.
~ Check on clothing for yourselves and all attendants.
~ Confirm honeymoon plans.
~ Enjoy all pre-wedding functions.
~ Prepare a seating plan for the reception.
~ Assign someone to be responsible for reserved seating at the ceremony.
~ Pick up your wedding bands
~ Give your caterer the final head count
~ Prepare the final table seating plan and table cards
~ Hold your rehearsal and the rehearsal dinner.
~ Prepare payments for officiant, soloist, maitre d' etc. and give them to the Best Man to handle
~ Make arrangement for everything necessary to get to the ceremony and reception
~ Arrange for someone to return all rentals (tuxedos, chairs, etc.).
~ Arrange for someone to take items home for the bride and groom (wedding goen, etc.)
~ Test out the beautician services you will be using and make appointments for the wedding day.
~ Pack for your honeymoon.
~ Be sure that the Best Man has your Wedding Day schedule and will stick to it.


It is your Wedding Day,
~ Let go of everything now and just let it happen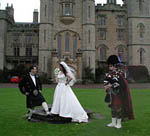 ~ Enjoy your preparations and enjoy that special moment


After the wedding day,
~ Enjoy the honeymoon, relax
~ Write thank you notes and/or send gifts to the special people who made your wedding "happen."
~ Send wedding photo and announcement to the newspaper(s).

Congratulations!! Enjoy your life together.