Your Wedding Day - This is your day. You are the Queen adorned in all your splendour and He is your knight in shining armour, your very own Sir William Wallace, Sir Lancelot or Sir Gallahad. You are about to bestow a precious and ancient honour upon him. This is the day to remember for the rest of your lives.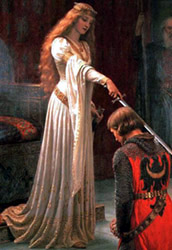 The Artistry of Rablogan Castle is here to ensure that this happens. We have only one thing in mind, we want to take care of every facet of your Scottish, Medieval or Renaissance wedding so as to make it everything that you have ever dreamed and wished for but without the tiring work of putting it all together yourselves.
We will take care of everything either with vendors and suppliers of your choice or with those that we have our own established relationship. We will help you by organizing everything from beginning to end, making your wedding as unique and authentic as you desire.